Over the past 24 years, Kung Pao has raised 10's of 1000's of dollars and awareness for different organizations. In keeping with the Jewish tradition of tzedakah (charity, in Hebrew – tied in with a sense of duty and social responsibility), each year Kung Pao donates partial proceeds to organizations and causes we believe in. See below for this year's and past Kung Pao beneficiaries.
We  chose these two local direct services organizations to support in 2016:
Shalom Bayit — Ending Domestic Violence in Jewish Homes —  is the Bay Area's hub for organizing domestic violence prevention and response through a Jewish lens. The organization empowers women, teens, and families to build safe, healthy relationships and create peace in the place that matters most — at home. Shalom Bayit promotes peaceful homes and families, teaches skills for healthy relationships, and works to build a safe, vibrant Jewish community that is free from violence and abuse.
Its three main programs include: counseling & direct support to battered women and their children, community education, and Love Shouldn't Hurt dating violence prevention for Jewish youth.
Are you being hurt by someone you love? Do you know someone in an unhealthy relationship? You are not alone. Call (866) SHALOM-7 for free, confidential support.
Did You Know? Since 2002 over 13,000 teens and their parents have participated in Shalom Bayit's Love Shouldn't Hurt healthy relationships workshops for Jewish youth.
Seniors at Home is Jewish Family and Children's Services' award-winning senior services division, which helps older adults live safely and with dignity in their own homes.
Each year, more than 17,000 older adults and their families in the Bay Area benefit from Seniors at Home's comprehensive approach to senior care. Services include home care, care management, skilled nursing, dementia care, palliative care, fiduciary services, meals, transportation, social programs, companionship, bereavement help, and expert support services for all family members. Seniors and their families know that at JFCS' Seniors at Home, they will receive the care, attention, and services that will allow them to remain healthy, active, and independent for as long as possible.
www.jfcs.org/find-help/seniors/seniors-at-home
Past beneficiaries:
2015
•Institute on Aging's Friendship Line
•Legal Assistance to the Elderly
2014
•Jewish Family & Children's Services (JFCS) Food Programs
•San Francisco Suicide Prevention (SFSP)

2013
•San Francisco and Marin Food Banks' "Healthy Children Pantries" 
•The Jewish Home San Francisco's Esther Weintraub Comedy Clinic
(Click here to download an article about the Comedy Clinic from The Jewish Home's
magazine.) JewishHome-Mag-ComedyClinic-article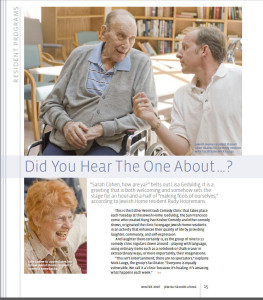 2012
2011
2010
2009
2008
2007
2006
2005
2004
2003
2002
2001
2000
SFJCC's Montefiore Senior Center
Lesbian & Gay Senior Services Collaborative
1999
1998
1997
1996
Jewish Family & Children's Services AIDS Project
1995
1995 – Los Angeles show
Aunt Bee's Laundry Service – offering free laundry and house-cleaning services to people with HIV/AIDS.
1994
1993
The late Tamar Kaufman – A Northern California Jewish Bulletin writer battling cancer
© Copyright Kung Pao Kosher Comedy 2000-2017