Over the past 20 years, Kung Pao has raised 10's of 1000's of dollars and awareness for different organizations. In keeping with the Jewish
tradition of tzedakah (charity, in Hebrew – tied in with a sense of duty and social responsibility), each year Kung Pao donates partial proceeds to organizations and causes we believe in. See below for past Kung Pao beneficiaries.
This year we have chosen two local direct services organizations to
support:
San Francisco and Marin Food Banks' "Healthy Children Pantries"  provides more than 5,300 low-income families with weekly nutritious groceries. Conveniently located at high-need public schools and
childcare centers, these 52 pantries are helping working families
struggling to regain a foothold in the post-recession economy. 35 of the pantries are in public schools with high poverty rates – providing each family with an average of 25 pounds of food each week. Delivering
sustenance is just the beginning: they're helping people achieve a
lifetime of good health by providing nutritious foods – including an
abundance of farm-fresh produce – and other vital resources such as
nutrition education classes and pre-screening for food stamp benefits. The Food Bank plays a central role in the food assistance network in SF and Marin, where 1 in 4 residents struggles to make ends meet. Each week, their programs serve more than 144,000 people.
www.sffoodbank.org/program/children-and-families
The Jewish Home San Francisco's "Esther Weintraub Comedy Clinic" was created in 2003 through a donation from Kung Pao and has been running monthly ever since. A local improv instructor facilitates the comedy clinic (workshop) for the residents. The Comedy Clinic is named in the memory of Esther Weintraub, former Jewish Home resident, stand up comic (Funny Girlz 2003), and the subject of Lisa Geduldig's film,
"Esther & Me." "The clinic touched my heart strings. I lost a lot of my
inhibitions. I made a fool of myself, but I loved every minute of it." – Edie Sadewitz, Jewish Home resident/Comedy Clinic participant. www.jhsf.org
Click here to download an article about the Comedy Clinic from The Jewish Home's magazine. JewishHome-Mag-ComedyClinic-article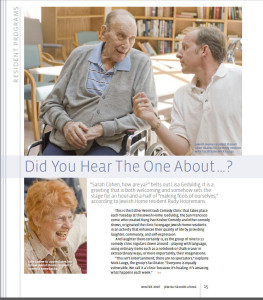 Past beneficiaries:
2012
2011
2010
2009
2008
2007
2006
2005
2004
2003
2002
2001
2000
SFJCC's Montefiore Senior Center
Lesbian & Gay Senior Services Collaborative
1999
1998
1997
1996
Jewish Family & Children's Services AIDS Project
1995
1995 – Los Angeles show
Aunt Bee's Laundry Service – offering free laundry and house-cleaning services to people with HIV/AIDS.
1994
1993
The late Tamar Kaufman – A Northern California Jewish Bulletin writer battling cancer
© Copyright Kung Pao Kosher Comedy 2000-2014