Over the past 22 years, Kung Pao has raised 10's of 1000's of dollars and awareness for different organizations. In keeping with the Jewish
tradition of tzedakah (charity, in Hebrew – tied in with a sense of duty and social responsibility), each year Kung Pao donates partial proceeds to organizations and causes we believe in. See below for this year's and past Kung Pao beneficiaries.
This year we have chosen these two local direct services organizations to support:
Jewish Family & Children's Services (JFCS) Food Programs
For more than 160 years, JFCS has been committed to making sure that those in our community who are hungry, or are at risk of hunger, have enough to eat. In addition to its Food Pantry, which provides sustenance throughout the year to many clients in need in San Francisco, Marin, Sonoma, San Mateo, and Santa Clara counties, JFCS helps to nourish hundreds of individuals annually through a range of programs:
•The Kosher Meals on Wheels program in San Francisco delivers hot,
nutritious meals to frail, homebound seniors with a kosher tradition. JFCS is proud of its partnership on this program with Rhoda Goldman Plaza, which caters these meals.
•The JFCS Food Program in San Francisco is a wonderful source of
nourishment for very low-income people (age 18 – 60) with disabilities and serious medical conditions. Clients receive a weekly delivery of healthful meals and a generous bag of groceries.
•JFCS' Chicken Soupers volunteers prepare mouthwatering, hearty meals, which they deliver every other week to people with AIDS, chronic illnesses, and disabilities.
•One Friday each month, JFCS holds its Senior Shabbat Outreach
Program lunch in San Francisco.
www.jfcs.org/services/jfcs-food-programs
San Francisco Suicide Prevention (SFSP)
has been saving lives for over 50 years. The agency serves over 30,000
individual clients annually and handles over 60,000 client contacts
nationally. SFSP is about reducing the pain that comes with emotional distress, physical illness, mental illness, and social isolation.
The organization helps people manage their pain so they can improve health, strengthen relationships, and choose life. The organization
operates with only twelve staff members and over 100 volunteers.  With only twelve staff members and over 100 volunteers, SFSP is the most efficient form of crisis care known. Their 24-hour crisis number is 415-781-0500.
www.sfsuicide.org
Past beneficiaries:
2013
•San Francisco and Marin Food Banks' "Healthy Children Pantries" 
•The Jewish Home San Francisco's Esther Weintraub Comedy Clinic
(Click here to download an article about the Comedy Clinic from The Jewish Home's magazine.) JewishHome-Mag-ComedyClinic-article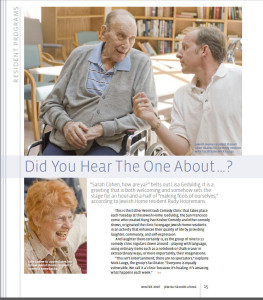 2012
2011
2010
2009
2008
2007
2006
2005
2004
2003
2002
2001
2000
SFJCC's Montefiore Senior Center
Lesbian & Gay Senior Services Collaborative
1999
1998
1997
1996
Jewish Family & Children's Services AIDS Project
1995
1995 – Los Angeles show
Aunt Bee's Laundry Service – offering free laundry and house-cleaning services to people with HIV/AIDS.
1994
1993
The late Tamar Kaufman – A Northern California Jewish Bulletin writer battling cancer
© Copyright Kung Pao Kosher Comedy 2000-2015