Over the past 21 years, Kung Pao has raised 10's of 1000's of dollars and awareness for different organizations. In keeping with the Jewish
tradition of tzedakah (charity, in Hebrew – tied in with a sense of duty and social responsibility), each year Kung Pao donates partial proceeds to organizations and causes we believe in. See below for past Kung Pao beneficiaries.
This year we have chosen two local direct services organizations to
support:
San Francisco Suicide Prevention
Info to come
www.sfsuicide.org
JFCS Food Programs
Info to come
www.jfcs.org/services/jfcs-food-programs
Past beneficiaries:
2013
•San Francisco and Marin Food Banks' "Healthy Children Pantries" 
•The Jewish Home San Francisco's Esther Weintraub Comedy Clinic
(Click here to download an article about the Comedy Clinic from The Jewish Home's magazine.) JewishHome-Mag-ComedyClinic-article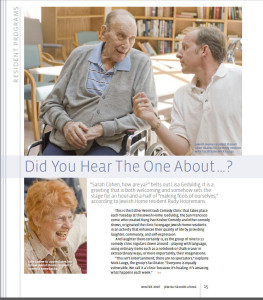 2012
2011
2010
2009
2008
2007
2006
2005
2004
2003
2002
2001
2000
SFJCC's Montefiore Senior Center
Lesbian & Gay Senior Services Collaborative
1999
1998
1997
1996
Jewish Family & Children's Services AIDS Project
1995
1995 – Los Angeles show
Aunt Bee's Laundry Service – offering free laundry and house-cleaning services to people with HIV/AIDS.
1994
1993
The late Tamar Kaufman – A Northern California Jewish Bulletin writer battling cancer
© Copyright Kung Pao Kosher Comedy 2000-2014