Over the past 23 years, Kung Pao has raised 10's of 1000's of dollars and awareness for different organizations. In keeping with the Jewish tradition of tzedakah (charity, in Hebrew – tied in with a sense of duty and social responsibility), each year Kung Pao donates partial proceeds to organizations and causes we believe in. See below for this year's and past Kung Pao beneficiaries.
In 2015, we chose these two local senior direct services organizations to support:
•Institute on Aging's Friendship Line AND Legal Assistance to the Elderly
Institute on Aging's Friendship Line – Since 1973, the Institute on Aging's (IOA) Friendship Line has been the only accredited, toll-free, 24-hour crisis intervention telephone
line for seniors in the United States. Friendship Line provides round-the-clock crisis
support, including suicide intervention, elder abuse counseling, grief support, assistance,
reassurance, and information and referrals for thousands of lonely and isolated older adults and adults with disabilities throughout the Bay Area. IOA's professional and
volunteer Friendship Line staff field over 100,000 incoming and outgoing calls annually. The goal of Friendship Line is to provide crisis counseling, grief
support, suicide intervention, emotional support, and connection to the community that help older adults overcome feelings of depression, loneliness, isolation, and hopelessness. The Institute on Aging's mission is 'to enhance the quality of life for adults as they age, by enabling them to maintain their health, well-being, independence, and participation in the community.'  IOA supports older adults and adults with disabilities to live in the community with an extensive coordination across medical, behavioral and social services.
Legal Assistance to the Elderly – Beginning in the mid 1970's, Legal Assistance to the
Elderly (LAE) was a program at the San Francisco Jewish Community Center that utilized volunteer attorneys to address the unmet legal needs of San Francisco elders.
Incorporated in April of 1979 as a non sectarian legal service, it quickly secured stable funding and hired several attorneys. Since that time it has served over 18,000 clients. As of 2003 legal services were also provided to younger adults with disabilities. Current funding sources include the City & County of San Francisco (Department of Aging & Adult Services, Mayor's Office of Housing & Community Development) and the State Bar of California.
LAE provides advice, referrals and or representation at no cost to eligible San Franciscans who are experiencing the following:
•Tenants who are facing eviction, illegal rent increases of having problems getting their landlords to make needed repairs
•Social Security and SSI recipients who are experiencing problems with their benefits
•Elders who are the victims of physical or financial abuse
•Elders and younger individuals with disabilities who are experiencing consumer or debt collection issues
•Elders and younger individuals with disabilities who need simple wills.
Past beneficiaries:
2014
•Jewish Family & Children's Services (JFCS) Food Programs
•San Francisco Suicide Prevention (SFSP)

2013
•San Francisco and Marin Food Banks' "Healthy Children Pantries" 
•The Jewish Home San Francisco's Esther Weintraub Comedy Clinic
(Click here to download an article about the Comedy Clinic from The Jewish Home's
magazine.) JewishHome-Mag-ComedyClinic-article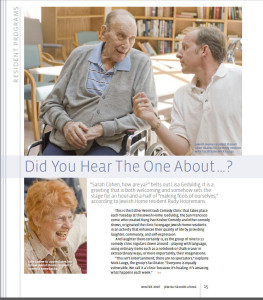 2012
2011
2010
2009
2008
2007
2006
2005
2004
2003
2002
2001
2000
SFJCC's Montefiore Senior Center
Lesbian & Gay Senior Services Collaborative
1999
1998
1997
1996
Jewish Family & Children's Services AIDS Project
1995
1995 – Los Angeles show
Aunt Bee's Laundry Service – offering free laundry and house-cleaning services to people with HIV/AIDS.
1994
1993
The late Tamar Kaufman – A Northern California Jewish Bulletin writer battling cancer
© Copyright Kung Pao Kosher Comedy 2000-2016